The following information was previously provided to subscribers of Premium BDC Reports along with:
SUNS target prices/buying points
SUNS risk profile, potential credit issues, and overall rankings
SUNS dividend coverage projections and worst-case scenarios
---

This update discusses SLR Senior Investment (SUNS) and was previously posted on our new platform with updated target prices, dividend projections, rankings, and recommendations:
---
For Q1 2021, SUNS did not fully cover its dividends due to no fee waivers for the quarter combined with being under-leveraged. However, management has guided for portfolio growth given its extremely low leverage with a current debt-to-equity of 0.43 (0.40 net of cash) which is currently the lowest in the BDC sector. Also, management continues to mention the possibility of additional acquisitions:
"The shortfall for the $0.30 per share earned in the prior quarter is a direct result of SUNS being under-invested. At March 31, SUNS significantly under levered at 0.4x net debt to equity relative to our target range of 1.25x to 1.50x. Importantly, the economic climate has improved considerably, and our pipeline across all 4 business verticals is very attractive. We expect portfolio growth in the coming quarters from both first link cash flow and asset-based loan investment opportunities. In addition, we continue to actively pursue acquisition opportunities of specialty lenders operating in niche markets as well as opportunistic ABL portfolio acquisitions."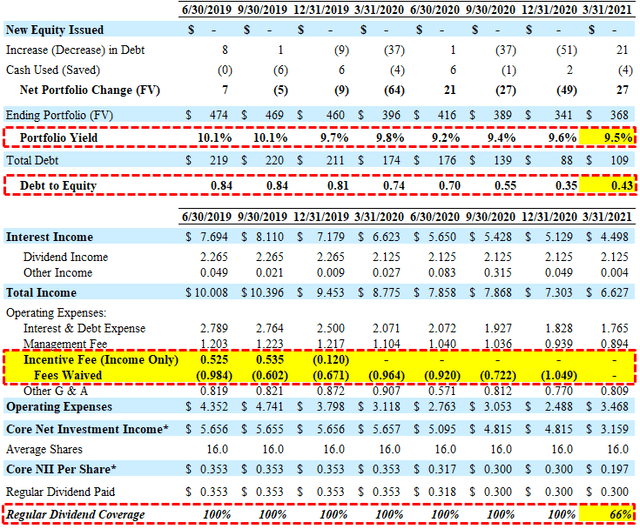 ---
Full BDC Reports
This information was previously made available to subscribers of Premium BDC Reports. BDCs trade within a wide range of multiples driving higher and lower yields mostly related to portfolio credit quality and dividend coverage potential (not necessarily historical coverage). This means investors need to do their due diligence before buying.