Summary
I recently purchased shares of TSLX (along with insiders) for many reasons, including excellent credit quality and dividend coverage, driving higher total returns and likely special dividends to shareholders.
TSLX has paid special dividends each quarter over the last five quarters for a total of $0.28 per share.
I am expecting higher amounts paid in 2018 for the reasons discussed in this article, including higher portfolio yield from rising interest rates and recent portfolio growth.
TSLX's largest investment (iHeart Communications) debtors filed for bankruptcy on April 28, 2018, eventually repaying its $117.5 million ABL and providing around $0.07/$0.08 in NII for upcoming special dividends.
Two weeks from now, management will discuss another home run for Q2 2018 with its "opportunistic" investment in Ferrellgas Partners that will likely drive another large special dividend.

You can read the full article at the following link:
My Recent Purchase And Insider Buying:
I recently purchased shares of TPG Specialty Lending (TSLX) as discussed at the end of this article along with insiders earlier this year: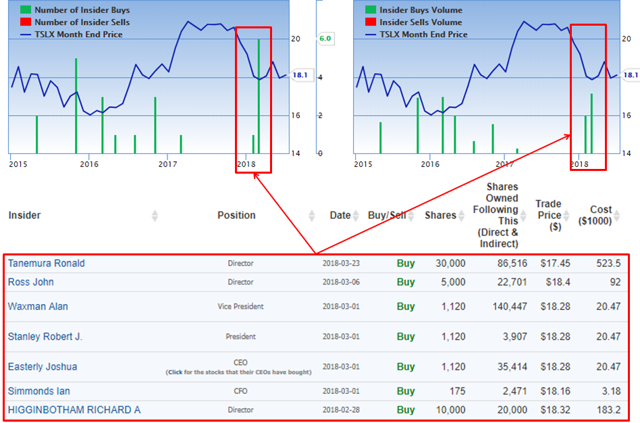 Source: GuruFocus
Continued And Upcoming Special Dividends
TSLX recently announced a special/supplemental dividend of $0.06 per share paid in June which was just below my 'best case' projected special dividend of $0.07. The company has paid special dividends each quarter over the last five quarters for a total of $0.28 per share:
"Consistent with our objective of maximizing distribution to shareholders while preserving the stability of our net asset value, we have declared a total of $0.28 per share in incremental dividends over the past five quarters based on our formulaic supplemental dividend framework. While increasing net asset value from $15.95 to $16.21 per share at the end of March after giving effect to the impact of the $0.06 Q1 supplemental dividend to be paid in Q2. Over the last 12 months we have increased dividend payment to shareholders over our base dividend by 15.4%, while generating a 1.3% increase in net asset value per share over the same period."
Source: TSLX Earnings Call Transcript
The company has covered its regular dividend by an average of 134% over the last four quarters, with undistributed taxable income and capital gains of around $65 million or $1.01 per share after taking into account supplemental dividends. As discussed in previous articles, TSLX management continues to produce higher returns by investing in distressed companies through excellent underwriting standards that protect shareholders during worst-case scenarios including call protection, prepayment fees and amendment fees backed by first-lien collateral of the assets.
I am expecting higher amounts of supplemental dividends paid in 2018, given the likelihood of "other fees" associated with the upcoming repayment of its recent $117.5 million asset-based loan ("ABL") with iHeart Communicationsat LIBOR+4.75. The fees are typically amortized over three years unless paid off early which will likely be in Q2/Q3 2018. iHeartMedia Inc. is the largest radio broadcaster and filed for bankruptcy on March 14, 2018, and the debtors filed Chapter 11 on April 28, 2018:
"On March 14, the company filed for Chapter 11 with a restructuring support agreement or RSA from a majority of its senior and junior creditors. We note that as part of the filing we negotiate a cash collateral order with the company where among other things we receive current interest, reserve default rate interest and received replacement liens on our collateral. In addition, the company must remain in compliance with our borrowing base. Last week on April 28 the iHeart debtors filed a joint Chapter 11 planned the reorganization, specifically as it relates to our investment the plan provides that ABL credit agreement claims are unimpaired other than the plan and the holders of the ABL credibly agreement claims shall receive payment in full in cash or reinstatement of those claims. As we indicated during our last earnings call, we expect repayment on our principal investment in iHeart to occur during the course of this year."
Source: TSLX Earnings Call Transcript