Summary
I purchased additional shares of ARCC after reporting Q1 2018 results, taking advantage of lower morning prices before others were able to digest the favorable results discussed in this article.
The company will likely exit its investment in Alcami Holdings marked $254 million over cost, resulting in $0.60 per share of realized gains driving a potential special dividend.
On June 25, 2018, ARCC announced approval to reduce its asset coverage ratio effective on June 21, 2019. The management fee is reduced to 1.00% on assets over 1.00x debt-to-equity.
Dividend coverage should continue to improve due to utilizing its 30% non-qualified bucket (through SDLP and IHAM), rotation out of non-core assets and increased LIBOR/portfolio yield, leverage/portfolio growth.
ARCC and other BDCs will begin reporting Q2 results next week.
You can read the full article at the following link:
I recently purchased additional shares of Ares Capital (ARCC) on May 2, 2018, due to the company reporting favorable Q1 2018 results as discussed in this article. After the company reported, not all investors agreed that the results were 'favorable' and the price dropped in morning trading which is where I purchased shares at an average price of $15.87 as shown below: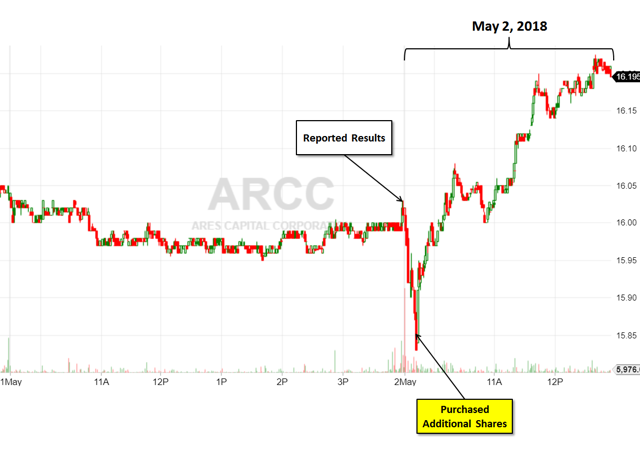 ARCC released its 10-Q SEC filing before the markets open which does not give investors much time to digest before trading begins. Throughout the day, the price rebounded and has continued higher as shown below: