The following information was previously provided to subscribers of Premium BDC Reports along with:
GLAD target prices/buying points
GLAD risk profile, potential credit issues, and overall rankings. Please see BDC Risk Profiles for additional details.
GLAD dividend coverage projections (base, best, worst-case scenarios). Please see BDC Dividend Coverage Levels for additional details.
---

GLAD September 30, 2021 Update
Gladstone Capital (GLAD) hit its base case projections covering its dividend due to continued management fee waivers. Its portfolio yield declined again from 10.5% to 10.3% offset by another quarter of higher-than-expected dividend income. Its portfolio companies continued to perform well, generating equity and loan market value appreciation with no assets on non-accrual status.
Leverage (debt-to-equity) remains low partially due to another 8.9% increase of its net asset value ("NAV") per share mostly related to additional appreciation from its equity positions that now account for over 15% of the portfolio (up from 12% the previous quarter). Some of these investments will likely drive realized gains including Lignetics, Inc., and reinvested partially into higher yield assets which will hopefully be discussed on the upcoming earnings call.

---
In November 2021, GLAD sold its investment in Lignetics, Inc. resulting in success fee income of $1.6 million and net cash proceeds of approximately $47.2 million, including the repayment of our debt investment at par. As shown below, its equity positions were valued at over $13 million over cost which will likely drive around $0.40 per share of realized gains. Also, this investment accounted for around 8.5% of the portfolio which will need to be reinvested.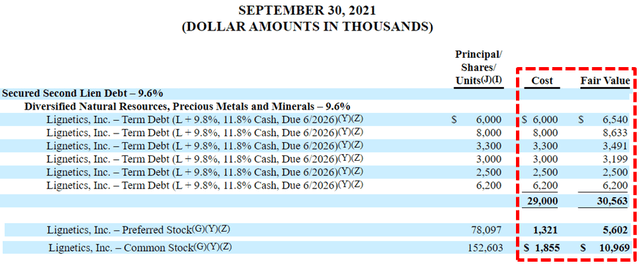 ---
In November 2021, the company issued $50 million of its 3.75% notes due 2027 partially used to redeem almost $39 million of 5.375% notes due 2024. As of September 30, 2021, the company has over $100 million of available liquidity under its credit facility for additional portfolio growth. It should be noted that interest income has reached a new quarterly high over $13 million that is mostly recurring potentially supporting a dividend increase in 2022.
Bob Marcotte, President: "We are pleased to report that our portfolio has continued to perform well as reflected in last quarter's appreciation which lifted our net asset value by 8.9% and our cumulative ROE for the last two years to 16.5% while maintaining our conservative leverage position. We believe these results affirm the resilience and attraction of our lower middle market investment strategy, and while our shareholders should benefit from this NAV appreciation, it also provides support for our continuing to scale the portfolio and grow our net investment income and shareholder distributions."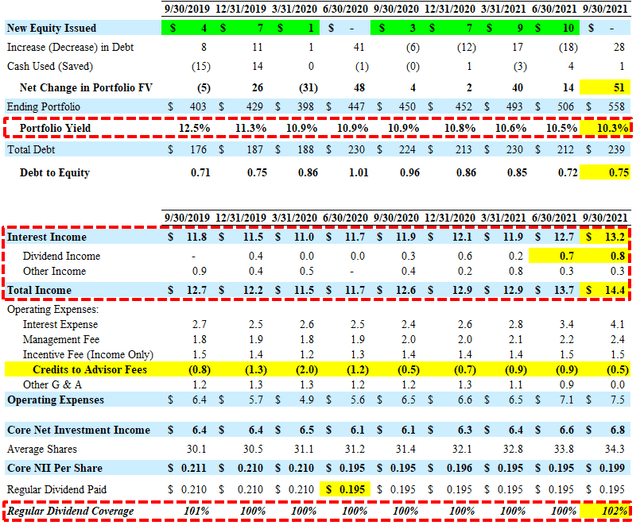 ---
In October 2021, GLAD reaffirmed its monthly dividends for calendar Q4 2021:

---
Subsequent to September 30, 2021, the following significant events occurred and will be taken into account with the updated GLAD Deep Dive Projections report.
In October 2021, we invested $26.3 million in Engineering Manufacturing Technologies, LLC through secured first lien debt and equity.
In November 2021, our investment in Medical Solutions Holdings, Inc. paid off at par for net proceeds of $6.0 million.
In November 2021, our investment in Lignetics, Inc. was sold, which resulted in success fee income of $1.6 million. In connection with the sale, we received net cash proceeds of approximately $47.2 million, including the repayment of our debt investment of $29.0 million at par.
In November 2021, our investment in Prophet Brand Strategy paid off at par for net proceeds of $13.1 million. In conjunction with the payoff, we received a prepayment fee of $0.1 million.
In April 2021, the company amended and restated its advisory agreement to maintain the revised hurdle rate included in the calculation of the incentive fee for the period beginning April 1, 2021, through March 31, 2022, which was previously amended for the period beginning April 1, 2020 through March 31, 2021, increasing the hurdle rate from 1.75% per quarter (7% annualized) to 2.00% per quarter (8.00% annualized) and increasing the excess incentive fee hurdle rate from 2.1875% per quarter (8.75% annualized) to 2.4375% per quarter (9.75% annualized).
---
---
What Can I Expect Each Week With a Paid Subscription?

Each week we provide a balance between easy to digest general information to make timely trading decisions supported by the detail in the Deep Dive Projection reports (for each BDC) for subscribers that are building larger BDC portfolios.

Monday Morning Update – Before the markets open each Monday morning we provide quick updates for the sector including significant events for each BDC along with upcoming earnings, reporting, and ex-dividend dates. Also, we provide a list of the best-priced opportunities along with oversold/overbought conditions, and what to look for in the coming week.
Deep Dive Projection Reports – Detailed reports on at least two BDCs each week prioritized by focusing on 'buying opportunities' as well as potential issues such as changes in portfolio credit quality and/or dividend coverage (usually related). This should help subscribers put together a shopping list ready for the next general market pullback.
Friday Comparison or Baby Bond Reports – A series of updates comparing expense/return ratios, leverage, Baby Bonds, portfolio mix, with discussions of impacts to dividend coverage and risk.

This information was previously made available to subscribers of Premium BDC Reports. BDCs trade within a wide range of multiples driving higher and lower yields mostly related to portfolio credit quality and dividend coverage potential (not necessarily historical coverage). This means investors need to do their due diligence before buying including setting target prices using the portfolio detail shown in this article (at a minimum) as well as financial dividend coverage projections over the next three quarters as discussed earlier.