Summary
TPVG has rallied 13% since my previous article "11.7% Yield Positioned For Rising Rates And Ready To Rally" partially due to the expected earnings beat for Q2.
TPVG recently completed an equity offering, and this article discusses some of the pros and cons as well as reasons to purchase the stock depending on pricing.
Also predicted, TPVG recently obtained shareholder approval to reduce its asset coverage requirement from 200% to 150%, effective June 22, 2018.
This article also discusses the potential impact from rising interest rates and the recent total returns from my previously announced purchases of higher quality BDC stocks, including TPVG.
You can read the full article at the following link:
Please read the full article at the link provided above or sign up for

Premium Reports

that includes updated

Deep Dive Reports

on each BDC including this one.
TPVG Article Follow-Up:

This article is a followup to "11.7% Yield Positioned For Rising Rates And Ready To Rally":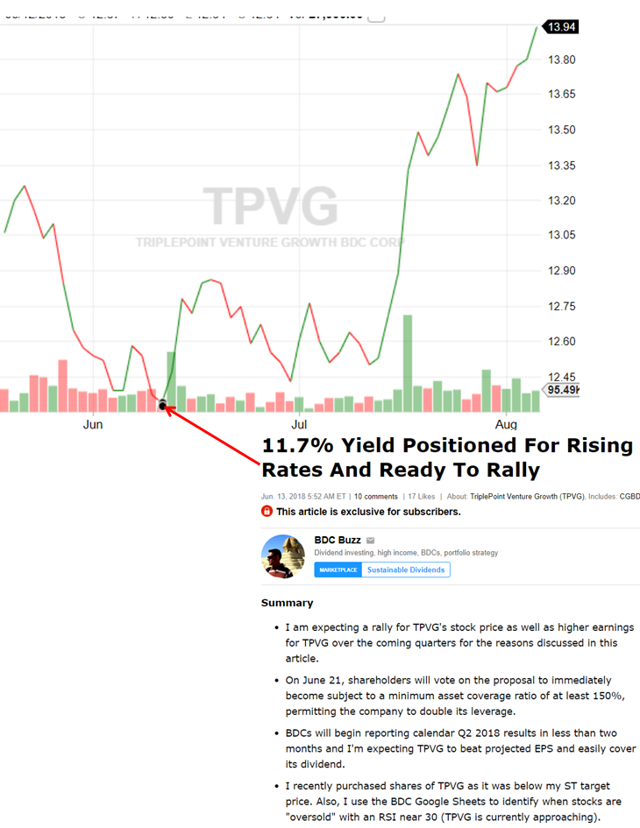 As predicted in the article linked above, the stock price for TriplePoint Venture Growth (TPVG) rallied 13% shortly after the article and the company easily beat analyst expected EPS by $0.10 per share. As mentioned in the previous article, TPVG was expected to easily cover its dividend due to prepayment-related income from its $50 million loan to Ring, Inc. driving an effective yield of 17.2% as shown below.